The Ancient Magus' Bride (魔法使いの嫁 Mahō Tsukai no Yome?) is a Japanese fantasy shōnen manga series written and illustrated by Kore Yamazaki. The series is published in Japan by Mag Garden in its Monthly Comic Garden magazine. The manga licensed is in North America by Seven Seas Entertainment.
A three-part prequel anime was announced in the fifth volume of the manga. The series will be titled Mahō Tsukai no Yome: Hoshi Matsu Hito (魔法使いの嫁 星待つひと?, The Ancient Magus' Bride - The Man Who Waits for Stars).
It will be directed by Norihiro Naganuma and written by Kore Yamazaki, with scripts by Aya Takaha. Wit Studio is producing the animation. Hirotaka Katō will design the characters and Bamboo is in charge of the background art. The series' music is produced by Flying Dog.
The episodes will be bundled with the sixth, seventh, and eighth volumes of the manga on September 10, 2016; March 10, 2017; and September 9, 2017. 
Drama CD
Edit
The Drama CD is bundled with the 5th volume of the manga.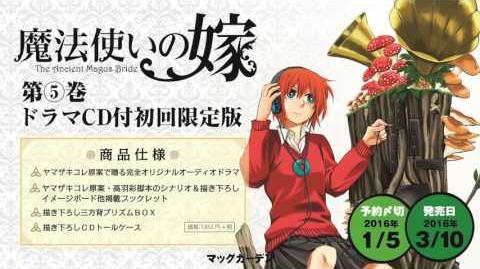 Cast includes:
Chise Hatori:  Atsumi Tanezaki
Elias Ainsworth: Ryota Takeuchi
Ruth: Kouki Uchiyama
Silver: Aya Endo 
Simon: Toshiyuki Morikawa 
Cise's Mother: Kikuko Inoue
Fae: Lynn
Fae: Shigematsu Chiharu
Fae: Mari Kawano
Rubber Straps
Edit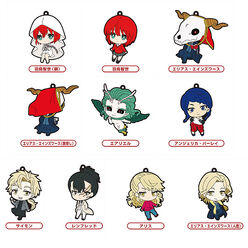 10 piece series by FREEing
Features:
-Chise Hatori (chain) -Chise Hatori
-Ellias Ainsworth
-Ellias Ainsworth (face hidden)
-Ariel
-Angelica Barlei
-Simon Kalm
-Renfred
-Alice
-Ellias Ainsworth (human face)
A paired scaled figure (PVC, ABS) Elias Ainsworth and Chise Hitori released September 2016. The set comes in a box shaped like a book, and with additional figures: mandrake, cottonfly, and axolotl.
Sculptors: Kenji Hirayama
Company: Genei
Elias Ainsworth (Nendoroid #666) (PVC, ABS) released December 2016. Includes multiple face-plates and accessories
Sculptors: Kodama Youhei , Nendoron 
Company Good Smile
Ad blocker interference detected!
Wikia is a free-to-use site that makes money from advertising. We have a modified experience for viewers using ad blockers

Wikia is not accessible if you've made further modifications. Remove the custom ad blocker rule(s) and the page will load as expected.