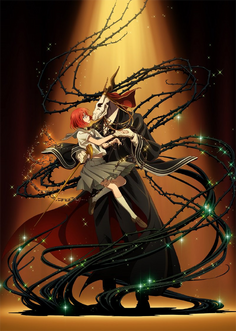 Mahoutsukai no Yome is the animated adaptation of the manga of the same name by Kore Yamazaki. produced by Wit Studio and Production I.G. The first 3 episodes premiered on July 2, 2017 via the World Premiere at Anime Expo 2017. The anime series was later released on October 7, 2017.
Episodes
No.
Title
Original air date
01

April showers bring May flowers

4 Tsuki no ame wa 5 tsuki no hana o sakasu  (4月の雨は5月の花を咲かす))

October 7, 2017

02
One today is worth two tomorrows

Kyō wa ashita 2tsu-bun no kachigāru (今日は明日2つ分の価値がある)

October 14, 2017

03
The Balance distinguishes not between gold and lead

Tenbin wa kin mo namari mo kubetsu shinai  (天秤は金も鉛も区別しない)

October 21, 2017

04
Everything must have a beginning

Nanigoto ni mo hajime ga aru (何ごとにも始めがある)

October 28, 2017
05
Love conquers all

Ai wa subete ni masaru (愛は全てに勝る。)

November 4, 2017
06
The Faerie Queene

Yōsei no joō (妖精の女王。)

November 11, 2017
07
Talk of the devil, and he is sure to appear

Uwasawosurebakagegasasu (噂をすれば影が差す)

November 18, 2017
08
Let sleeping dogs lie

Neta inu wa okoshite wa ikenai (寝た犬は起こしてはいけない)

November 25, 2017
09
None so deaf as those who will not hear

Kikou to shinai mono hodo settoku ga kon'nandearu (聞こうとしない者ほど説得が困難である)

December 02, 2017
10
Main Cast and Voice Actor List
Staff
Director: Norihiro Naganuma
Script: Aya Takaha
Character Design: Hirotaka Katou
Color Design: Yuko Kobari
Art Director: Yusuke Takeda
Director of Photography: Mayo Suzuki
CGI Director: Shinya Sugai
2D Work: Chie Nishitani
Special Effects: Supervisor Kumiko Taniguchi
Special Effects: Ayumi Arahata
Editor: Daisuke Imai
Music: Junichi Matsumoto
Music Production: Flying Dog
Music Production Assistance: BASiLiCA
Opening Theme Song: "Here" by JUNNA
Ending Theme Song: "Wa –cycle-" (Ring –cycle-) by Hana Itoki
Sound Effects: Noriko Izumo
Sound Production: Sound Team Don Juan
Animation Production: WIT STUDIO
Production: The Ancient Magus' Bride Production Committee
English Staff
ADR Director: Kyle Phillips
ADR Engineer: Jeremy Woods
Scripts: Bonny Clinkenbeard and Jamie Marchi
Mixing Engineer: Nathanael Harrison
Ad blocker interference detected!
Wikia is a free-to-use site that makes money from advertising. We have a modified experience for viewers using ad blockers

Wikia is not accessible if you've made further modifications. Remove the custom ad blocker rule(s) and the page will load as expected.