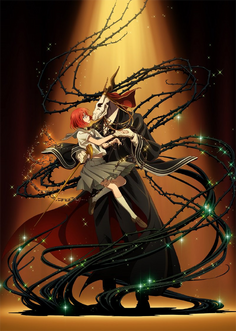 Mahoutsukai no Yome is the animated adaptation of the manga of the same name by Kore Yamazaki. produced by Wit Studio and Production I.G. The first 3 episodes premiered on July 2, 2017 via the World Premiere at Anime Expo 2017. The anime series will be released on October 8, 2017.
Main article: List of Episodes
Main Cast and Voice Actor List
Edit
Director: Norihiro Naganuma
Script: Aya Takaha
Character Design: Hirotaka Katou
Color Design: Yuko Kobari
Art Director: Yusuke Takeda
Director of Photography: Mayo Suzuki
CGI Director: Shinya Sugai
2D Work: Chie Nishitani
Special Effects: Supervisor Kumiko Taniguchi
Special Effects: Ayumi Arahata
Editor: Daisuke Imai
Music: Junichi Matsumoto
Music Production: Flying Dog
Music Production Assistance: BASiLiCA
Opening Theme Song: "Here" by JUNNA
Ending Theme Song: "Wa –cycle-" (Ring –cycle-) by Hana Itoki
Sound Effects: Noriko Izumo
Sound Production: Sound Team Don Juan
Animation Production: WIT STUDIO
Production: The Ancient Magus' Bride Production Committee
Ad blocker interference detected!
Wikia is a free-to-use site that makes money from advertising. We have a modified experience for viewers using ad blockers

Wikia is not accessible if you've made further modifications. Remove the custom ad blocker rule(s) and the page will load as expected.