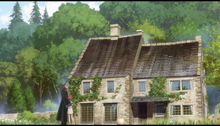 Elias' House, as the name suggests, is the the house where Elias Ainsworth lives.
The house is located in England.
Appearance
Inhabitants
Elias lives alongside other people in the house. One of them being the Silver Lady or Silky, as Elias call her, who acts as a housekeeper in the residence and Chise Hatori, his new apprentice.
Gallery
Ad blocker interference detected!
Wikia is a free-to-use site that makes money from advertising. We have a modified experience for viewers using ad blockers

Wikia is not accessible if you've made further modifications. Remove the custom ad blocker rule(s) and the page will load as expected.