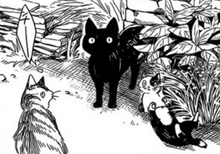 Cats are small creatures that live alongside humans and are sometimes valued by them for companionship.
Many cats live in Ulthar.
Appearance
Notable Cats
Abilities
Language
Cats gain the ability to be understood by humans and communicate with them the more lives they lost.
Lifespan
Cats are known to have a different lifespan from other creatures. They can only live up to their 9th lives.
Ad blocker interference detected!
Wikia is a free-to-use site that makes money from advertising. We have a modified experience for viewers using ad blockers

Wikia is not accessible if you've made further modifications. Remove the custom ad blocker rule(s) and the page will load as expected.