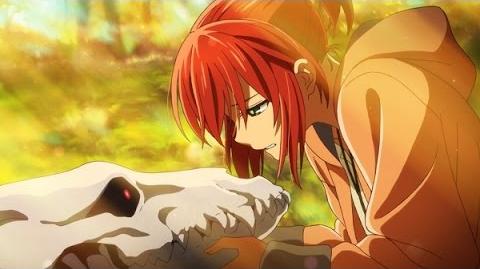 A three-part prequel anime was announced in the fifth volume of the manga. The series will be titled Mahō Tsukai no Yome: Hoshi Matsu Hito (魔法使いの嫁 星待つひと?, The Ancient Magus' Bride - The Man Who Waits for Stars). It will be directed by Norihiro Naganuma and written by Kore Yamazaki, with scripts by Aya Takaha. Wit Studio is producing the animation. Hirotaka Katō will design the characters and Bamboo is in charge of the background art. The series' music is produced by Flying Dog.
The episodes will be bundled with the sixth, seventh, and eighth volumes of the manga on September 10, 2016; March 10, 2017; and September 9, 2017. The first episode will be shown in theaters for two weeks, starting on August 13, 2016.
Character Design: Hirotaka Kato (Hozuki no Reitetsu) Edit
Arts: Bamboo Edit
Music Production: Flying Dog Edit
Anime Production: WIT STUDIO (Attack on Titan) Edit
Distribution: Shochiku Edit
Planning, Production: Production I.G Edit
Main Voice Cast: Edit
Ruth: Kouki Uchiyama (Banagher Links in Mobile Suit Gundam Unicorn) Edit
References
Edit
Ad blocker interference detected!
Wikia is a free-to-use site that makes money from advertising. We have a modified experience for viewers using ad blockers

Wikia is not accessible if you've made further modifications. Remove the custom ad blocker rule(s) and the page will load as expected.